African Women rely more on social media for information on hair care – A GeoPoll study reveals
Young African women are fully embracing the natural hair movement and Social media is their main source of information on hair care & styling, this is according to a recent GeoPoll survey conducted among young women in Kenya, Uganda, Tanzania, South Africa, Ghana and Nigeria.
The GeoPoll survey conducted using the GeoPoll Mobile application polled 1,233 women in 6 African countries, seeking to understand their hair preferences (natural or relaxed), how much time and money they spend on hair care, their thoughts on hair and beauty and how they get information on hair care. The natural hair movement is sweeping across much of the U.S and Europe according to Glamour magazine, through our survey, we got insights into millennial women across Sub-Sahara Africa and their experiences having natural hair in today.
According to the survey, most South African women prefer their hair short ( 26%). Most Kenyan, Nigerian, Tanzanian and Ghanaian women prefer plaited hair and most Ugandan women prefer weaves (22%).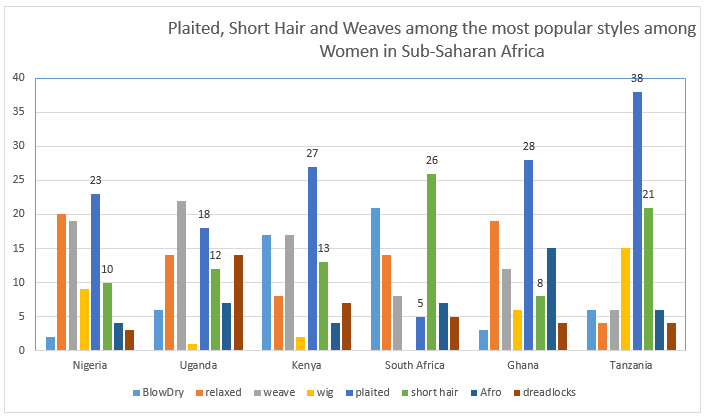 Time & money spent on Hair
Most women in Sub-Saharan Africa frequent the Salon once a month, this is with the exception of Ghana where a majority visit the Salon at least 3 times a month.
When it comes to how much women spend on their hair, the average spend per Salon visit for most women is between 10 – 30 USD.
With the exception of Nigeria where a majority of our respondents are still in college, most of our respondents indicate that they are currently employed.
Relaxed vs Natural
Nigeria has the highest rate of women with relaxed hair and South Africa has the highest rate of women with natural hair. The natural hair movement is taking its hold with women in Kenya, Tanzania and South Africa with an average of 68% of the female respondents indicated that their hair is natural. The major reason indicated for the natural hair preference was because it's easier to maintain and less costly to care for.
Like in Nigeria, most women in Uganda and Ghana prefer their hair relaxed with an average of 62% respondents indicating their preference due to ease in combing and styling.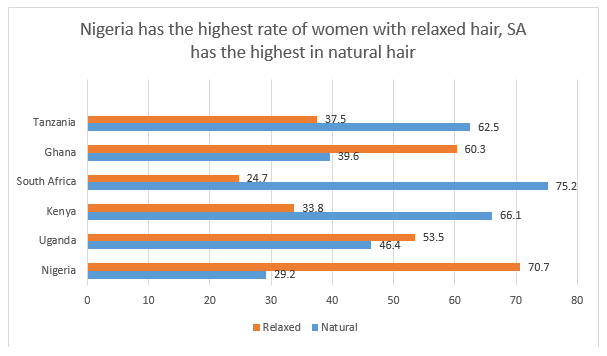 Definition of Beauty
When we asked the respondents on whether women with long flowing hair are more beautiful, a majority of our respondents in all the countries said yes. It is only in Ghana where a majority of the respondent didn't agree with this statement.
Is natural Hair unprofessional?
Although there have been incidents of African women being told their natural hair is unprofessional in the corporate world, according to our recent study, this is not prevalent according to our survey. Only 25% of women reported this. Discrimination, failure of a job promotion and warning cases due to having natural hair were even less from the 25% of women who indicated that they have, in the past, been told that their hair was unprofessional.
Hair care information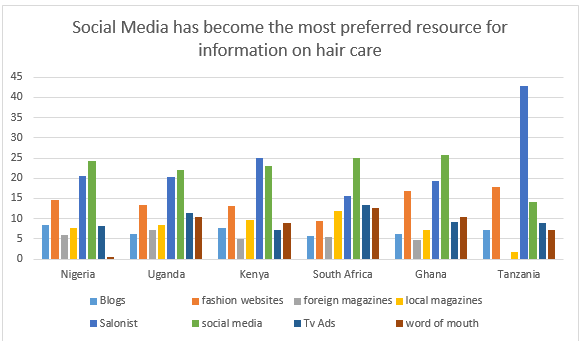 There was a time when the salonist was the epitome of knowledge on hair care and styling. According to our research, this is no longer the case. Women no longer rely on the salonist for information on hair care and styling.
With the exception of Tanzania and Kenya, most women in other African countries get their information on hair care from social media, the salonist however, comes in a close second.